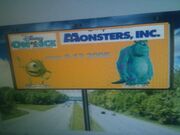 Take part in the monsterrific adventure as Sulley, Mike and their new friend Boo re-energize Monstropolis with mega-watt laughter, live in your hometown. With its special effects and amazing stunts, this is the show you've got to see!!
2003-2007
James P. Sullivan (AKA "Sulley") and Mike Wazowski pick up their paychecks at Monsters Inc., the utility company that generates energy from the goose bumps of children. Sulley, the No. 1 scream-generator at the plant accidentally lets in a little girl into the monster world. Since monsters are actually terrified of children it's a major cause for alarm and a major headache for Sulley and Mike.
In a land of monsters, James P. Sullivan is king. He and his coworker/ friend Mike Wazowski are two of many monsters that work for Monsters Inc. a utility company that generates power for a very paranoid and nervous city of monsters. This power, oddly enough, is generated from the screams of children, which is produced by scaring them in their sleep. One night, however, Sully uncovers a devious plot to rid Monster city of its power problems, but in all the wrong ways. Together, ironically, Sully and Mike will fight to protect the innocence of the children they scare every night.
In the world behind our closet doors, monsters like Mike and Sulley work hard for their income. To be exact, the monster world depends on our children's screams: It is their energy that makes lightbulbs glow and cars drive. Big companies like Monsters, Inc. collect the scream energy, and many monsters work there in shifts. In these times, it is getting harder and harder to shock the kids properly, since they're so spoiled by television, so that there's an energy shortage in the monster world. Sulley, the number one frightener, one day accidentally lets a human child into the monster world. Since kids are supposed to be poisonous and carry loads of diseases, pandemonium ensues. After Mike and Sulley discover that the girl they named Boo actually seems quite harmless, they decide to bring her back through her door into her room. But Boo's presence is more than just a mere accident. Now, Mike and Sulley have to face an enemy within their own ranks.
Now they must avoid the CDA (Child Detection Agency), and Randall, Sulley's competitor in the scaring business, and Boo's monster, who evidently is the one who is responsible for Boo's presence in Monstropolis, from taking her. In the end, they return her to her door and stop Randall and Mr. Waternoose, the boss of Monsters, Inc., from revealing her indentity to the CDA. Mike and Sulley become heroes, and Sulley then becomes the new boss of Monsters Inc, which he later remakes into a factory that makes children laugh.
Ad blocker interference detected!
Wikia is a free-to-use site that makes money from advertising. We have a modified experience for viewers using ad blockers

Wikia is not accessible if you've made further modifications. Remove the custom ad blocker rule(s) and the page will load as expected.